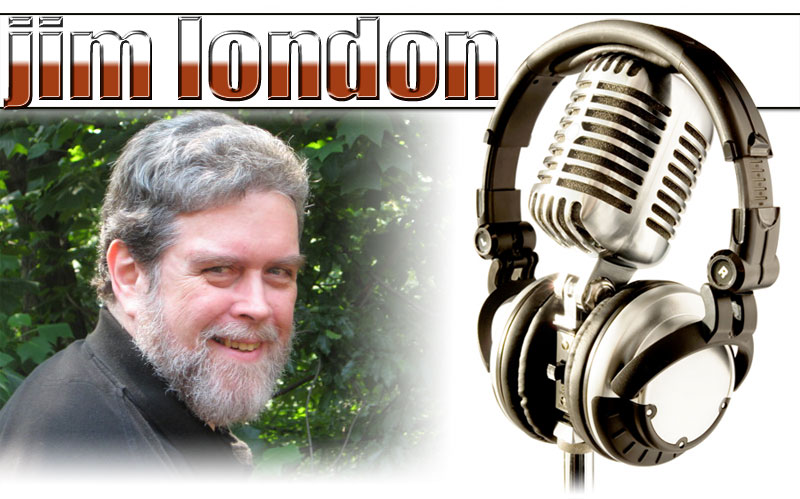 Jim London Aircheck





My heart is literally breaking in two.

I can tell you right now, the industry has lost a great DJ - a radio legend. That goes without saying.

But a family has also lost a great husband and father. I have lost a great friend.

Many of you knew Jim. Many of you didn't. You just know the 'big man with the big voice.'
Let me tell you what I knew about him. Sure, he was big. But with big size comes a big heart. And if you talked for five minutes with Jim, you loved him. You couldn't help it. He was the kindest soul, a man who would give everything of himself to help out anyone in need. Everyone at the station jokingly called him 'The Professor.' The guy was literally a walking encyclopedia of Country Music. He forgot more about country than I'll EVER know. He used to follow me on-air 8pm-Mid Saturday nights on WMZQ with "America's Music" - his All Request Classic Country show. On a few rare occassions, he gave me the honor of hosting it.

But I could never match his style, his delivery, his entire presence. I'll be quite honest. Jim was who I wanted to be when I 'grew up.' He wasn't only my friend, he was my radio hero.

When he cracked that mic open, he made you feel like you were in the studio with him. You were kicking back in a chair next to him, leaning across the console, sipping a cup of coffee, listening to Ferlin Huskey or Waylon Jennings and laughing about war stories from 'back in the day' when Jim introduced them onstage. He made you feel like you were part of it - like you were actually his friend. You know why?

Because you were.

I fully believe in the afterlife - in Jesus Christ, and in this: There is no voice tracking in Heaven.

It's all live, 24/7. And right now, Jim is doing what he does best - while Peter's standing by the gates scratching his head, saying "Wow, I never knew THAT about Cal Smith.."

Rest in peace, brother.

God Bless You. You're loved. And you'll be missed.

--Brian "Lars" Hartz



You can leave your own comments and pay your respects to Jim at http://www.celebratingjimlondon.wordpress.com, set up by his former WMZQ morning show co-host Mary Ball.

I put Jim's resume online a few years ago at his request. I took the references off the bottom, but have left the rest intact along with his aircheck so his fans can remember him - and so you can learn a bit more about how truly great this man really was.
About Jim London
When Jim London arrived on Washington DC radio in 1980 he had already compiled an impressive and diverse resume encompassing experience as a Program Director, News Director, play-by-play man for the Pony League boys baseball World Series heard around the globe, talk show host, TV news panelist and interviewer, newspaper reporter and feature writer. Morning Drive disc jockey stints at WIRK West Palm Beach, WQAM Miami and KCMO Kansas City laid the groundwork for his years of ratings success in Washington.

From 1980 to 1983...Morning Drive at Washington's new country station, WPKX (KIX Country). Right out of the box KIX pulled even with the market's dominant country station, WMZQ and won Cashbox Magazine's Country Station Of The Year award. Jim was voted Major Market Air Personality of 1983 by the Country Music Association in Nashville.

1983 to 1992...Morning Drive at WMZQ with new partner Mary Ball. In 1986 Mary and Jim ended Hardin and Weaver's 30-year reign (on WMAL) as Washington's most popular morning show. Thirteen times #1 Arbitron 25-54, seven times #2, 20 of 25 books no lower than second in the money demo. During that time MZQ won Station Of The Year awards from both Billboard Magazine and the Country Music Association. Jim emceed the biggest country music concert in history, 575,000 people on the Washington Monument grounds, July 4th, 1985. He has also hosted events at The White House, The Kennedy Center, Wolftrap and many other venues.

1993 to 1997...Morning Drive at the new Oldies-100 (now BIG-100). During that period Mary Ball retired from radio and left the show leading to his reinvention of himself as, once again, a solo on the air.

1998 to 1999...Morning Drive at WGAY (now WIHT). Great fun as was reflected in a consistant ratings climb until new owners changed the format. (Some the aircheck is from GAY.)

1999...Weekends and vacation fill at WASH.

2000 to 2007...Jim returned to WMZQ where his new midday show consistantly led the station's ratings. However, an economy with its thumb poised over the flush handle and a tsunami of new-tech competition led to the departure of several on-air veterans. And that is why you're reading this now.

Personal History: Born in Pittsburgh and grew up in nearby Washington, Pa. B.A. in Political Science from Florida Atlantic University, Boca Raton. U.S. Navy veteran (a seagoing tugboat sailor). Lives with wife Mary and teenaged son Mike in Alexandria, Va.